Continent
At the moment there are two maps in the MMO. One is the Newbie island from YO and the other is the mainland called "Abella", only accessable for MMO players.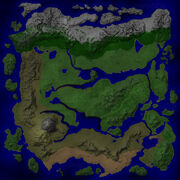 The continent will consist of two zones: Mainland and "Newbie island".
There will exist multiple terrain types or biomes including but not limited to: snow, desert, plains, rivers, swamps, tundra, forest, and more.
The continent will have a minimum of the following features:
Reference took from Forum post Landy ahoy!
Name
Feature Type
Total No.
Size
Measurement
Type
Total

Area

–

470,017,800 m2

sq. meters

Land Mass

Area

–

306,155,600 m2

sq. meters

Water

Area

–

? m2

sq. meters

Iron

Ore

–

2,686,160,196 m3

cubic meters

Copper

Ore

–

1,585,786,189 m3

cubic meters

Silver

Ore

–

17,192,576 m3

cubic meters

Gold

Ore

–

8,103,766 m3

cubic meters

–

Trees

2,807,269

–

–

Personal

Claim

–

1 – 150

Tiles

Town

Claim

–

Approx. 3,850 wide

Tiles

Realm

Claim

–

Approx. 0 – 18,850 wide

Tiles